Date/Time
Date(s):
10/24/2020
Time(s): 9:00 am - 5:15 pm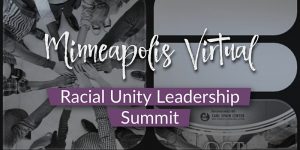 This year's Minneapolis RULS event will be held in Honor of George Floyd.
It is a virtual event featuring education, worship, and prayer to equip church leaders to be active in racial healing within their local community. The event, open to interested persons from across the nation, will bring together leaders and members of Churches of Christ from throughout the Minneapolis, Minnesota area and beyond.
To register for this event, please click on the event registration link here: Event Registration